AstroQuick 7.6 web datasheet
AstroQuick 7 for internet browsers
Mac OS X, PC Windows, iPhone, iPad, Linux compatible.

The easiest Astrology software to use
Software with no installation !
A professional application
Technical datasheet
Versions and comparison
Interpretations Modules
Online order and prices


SYSTEM REQUIREMENTS
AstroQuick 7 softwares work with any computer providing a browser and an internet connection
.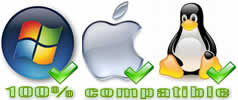 AstroQuick 7 is 100% compatible with
PC Windows (XP / Vista / Windows 7, 8 and 10)
and
Apple Mac OS X
(Intel & PPC) with the browsers
Firefox
and
Safari
. It also works on Apple iPhone and iPad, Android, netbook and Linux.



AstroQuick 7 will automatically work with the recent versions of
Mozilla Firefox
and
Apple Safari
, however other browsers that respect the standards Web 2.0 can also be used like
Opera
or
Chrome
*.
Even if it's better with, a high-speed connection isn't indispensable, you can also use AstroQuick 7 with any low-debit connection
(modem or edge).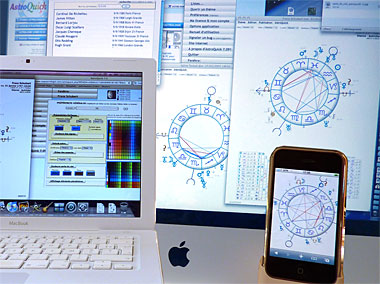 MAIN FUNCTIONS
Astronomy
Very precise calculations over up to 5000 years of ephemeris: positions of planets (Sun until Pluto), Lunar nodes, Black Moon (medium, corrected and real), 5 asteroids (Ceres, Chiron, Pallas, Juno, Vesta).
Tropical Zodiac and sidereal zodiacs (Ayanamsa or SVP).
19 Calculations of domification (Placidus, Regiomontanus, Campanus, equal houses, Porphyre, Meridian, Koch, Antique, Nodal, Solar, Lunar, Mercurian, Venusian, Martian, Jupiterian, Saturnine, Uranic, Neptunian, Plutonian) with display of the part of fortune.
Indication of planetary retrogrades.
11 major and minor Aspects (0°, 30°, 45°, 60°, 72°, 90°, 120°, 135°, 144°, 150°, 180°).
Hourly corrections and geographic files :
Timetables in more than 300 countries or regions are automatically calculated (time zones; regularly updated). Other entry options in Universal or Local time.
Geographic coordinates of more than 70.000 cities in the world, search by city, region, country, latitude and longitude.
Possibility of typing the city with geographic latitude and longitude (degrees and time).
Charts
Up to 16 sky charts simultaneously opened.
Birth and hourly charts, with automatic data capture.
Astral clock with lunar phases and lunations.
More than 4.000 celebrities and events charts with date and place, available in a search engine by name and date.
versions PERSO and higher:

Charts : Ephemeris, Solar Return, Lunar Return, Secondary directions, Solar or Symbolic Arc with converse options, Lunations (4 soli-lunar phases), Synastries (superimposed charts with compared aspects), Mid-points (2 charts), Mid-space/time (spatiotemporal), hourly transits, minor and major (monthly or yearly with converse options). Solar Ingres (12 signs), lunations and 4 lunar phases.
Lists and calculations
Positions of the elements of the chart with indication of the positions in sign, house, aspects.
Aspects charts with analysis of the orbs.
versions PERSO and above:
Multi-period ephemeris tables with positions of the planets, lunations (4 phases), lunar nodes, black moon (medium, corrected and real) and asteroids (Chiron, Ceres, Pallas, Juno and Vesta). Planetary longitudes in tropical and sidereal zodiac (SVP or Ayanamsa). Periods of 1 month, 6 months, 1 year, 2 years or 12 years with fast browsing adapted to touchpads like Apple iPad or Google Android.
Lists of dates and transits and directions periods that are secondary, symbolic and of the solar arc with automatic settings. Settings as for the period, transiting planets, transited planets (natal positions), zodiacal reference. Options of converse calculations (before birth). Aspects tables classified and presented according to 7 criteria: the transit date, the birth chart, the aspects, the periods, the zodiacal longitude, etc. Calculations periods of 1 month, 6 months, 1 year, 2 years, 10 years and 84 years with fast browsing adapted to touchpads (extra fast calculations with easy settings). Monthly transits with time of lunar aspects. Calculations of transits of all the planets (from the Sun to Pluto) and asteroids (Chiron, Ceres, Pallas, Juno and Vesta) on all the points od the chart, expect the natal positons of Pallas, Juno and Vesta.
Listing of the transits and directions dates (with aspects and periods).
Listing of the dates of transit with their symbols (key words clouds, help as for the edition of individual studies).
versions PLUS and higher:
Interpretations of Astrotransit planetary transits (transiting from Pluto to Venus).
Settings and changeable options :
Presentations of the zodiac depending on Aries, the Ascendant or the Ascendant of the birth chart (related charts and synastries).
Calculations in tropical and sidereal zodiac with choice of Ayanamsa or SVP. Associated graphic option.
Graphic options for colors and displaying of all the elements of the sky chart (zodiac, planets, signs, houses, aspects) avec general control of the chart window.
Importance of the strength of the aspects with adaptation of the lining or symbol depending on the orb or the repetition of the aspect in comparison (3 levels)
Possibility to display or not the planets, asteroids and special points such as the Part of Fortune, Black Moon, North and South lunar nodes, domification, aspects for the ascendant.
Possibility to apply calculations and graphic preferences of a chart: copy/paste option giving you an infinity of settings and personalized options.
Graphisms
Downloadable JPG pictures: sky chart, aspects charts, comparisons, planetary positions and houses.
Vectorial PDF reports of the charts (simple or compared). Standard format adapted for enlargement and all the computer graphics work and high resolution printing.
Interpretations
Interpretation help by clicking on the element of a chart (planet, cuspid or point) with zodiacal sign key words, decan, house, degree; symbolic and lists of aspects.
Interpretation of the birth chart AstroBasic, Ascendant and planets in sign and houses (until Saturn): about 6 pages.
versions PERSO and higher :

Help as for the editing of personalized interpretations with listing of the positions and aspects (birth chart, comparisons, returns and dates of transits).
Publication of changeable files with all the editing softwares (word processing) Mac and PC.
More than a dozen of interpretation modules available as options.
version PRO: more to come in 2014 :

Personalized interpretations.
Basic documents of each interpretation (unlimited length) are fully editable by the user (with any word-processing software). With an unlimited number of interpretation files, the possibilities of interpretations are unlimited for birth charts (natal or others), returns, synastries, lists of transits and lists of directions...
Analysis of the birth chart :
19 planetary elements in sign, house, sign and house,
12 cuspids of houses in signs,
11 aspects (major and minor),
144 combinations Sun/Ascendant,
planetary elements and cuspids of houses in sign and house,
planetary retrogrades,
commentary documents.
Analysis of dates of transits :
Transiting planets in aspects to all the elements of the chart (planets, houses, natal points)
11 aspects (major and minor).
commentary documents.
.
Communication of data
Saving the unlimited charts (HTML files readable with copy of preferences)
The lists of charts can be changed with other softwares (chart files with 100% compatible text/chart).
Transfer of the graphics with a simple downloading : sky chart, aspects charts, comparisons, planetary positions and houses.
PDF printing report (vectorial format) for a high resolution printing or emailing.
versions PERSO and higher:
Copy of astrological data: Planetary positions, aspects, astrological data, list of transits. List of celebrities and key words clouds (help for editing).
Publication of personalized interpretations that can be emailed with a sky chart.
version PRO:
Commercial licence of the printed or emailed documents.
Interpretations with graphs and hypertext interactivity.
More to come in 2014 : personalized interpretations files, portfolio and website with email server.
Pinting
Vectorial PDF report for high resolution printing including the picture of the sky chart with a detailed report; name, birth data, planetary positions, domification, aspects chart, saved settings and personalized signature (your name and internet address).
versions PERSO and higher:
PDF printing report for charts comparisons with détailed interaspects, planetary positions and summaries.
Lists of dates et periods of transits and directions on 3 columns with 7 options of presentation.
No installation : no setting, it is so easy !
No hardware dependence ; you can use any computer as long as they is an internet connection.
On PC Windows, it is recommended to install Firefox or Safari. Internet Explorer is only compatible with the version 8 and after.
There are no settings, AstroQuick works with the standards settings of your browser (javascript and cookies are activated).
You will instantly find all your astrological settings no matter what computer you use (PC, Mac, iPad etc.).
No electronic key : AstroQuick softwares don't need any protection electronic keys and will never create any problem when it comes to hardware (material) or software compatibility.

100% safe and available : AstroQuick WEB works on the best professional servers with no pop-ups.
Already compatible with new and future systems : Mac OS 10.7 Lion, Mac OS 10.8, Mac OS 10.9, Mac OS 10.10, Windows 7, Windows 8, Windows 10, Mac OS 10.11, iOS 5, iOS 6, iOS 7, iOS 8, Android etc.
User guide
User guide with interactive references, tips and tutorial videos.
The use of AstroQuick is submitted to the acceptance of a licence contract that defines the limits and rights of use of the software. There are only 2 uses provided: a personal use at home (versions ECO, PERSO, PLUS, CLASSIC and DELUXE) and a professional use allowing you to commercialize astrological interpretations (version PRO). The versions PERSO and above allow you to use calculations ans sky chart (for any astrologer) whether it is professional or not. Click here to read the licence contract.

Versions and comparisons

Interpretations Modules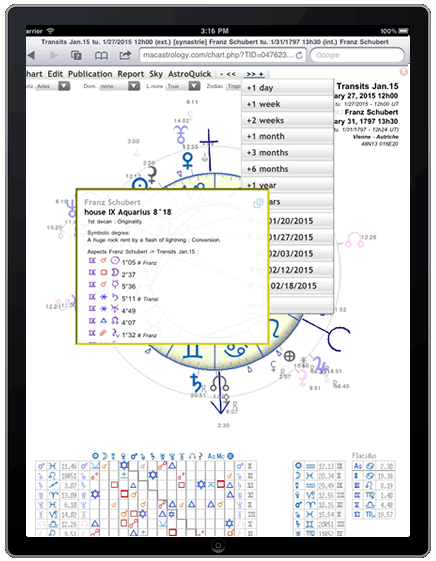 * Microsoft™ Internet explorer™ is compatible from the version 8.
™ trade mark.


top of page