Online order
add to basket :

pdf booklet: 3 €
The forecast ephemeris
("Ephémérides Prévisionnelles")
provide a convenient tool for the study of transits and lunations with an original presentation planetary positions from one year to two pages. Each page gives the zodiacal longitudes of a semester according to the following tables:
-
Weekly planetary positions
from the Sun to Pluto, Lunar nodes, Dark Moon (true calculation).
-
Monthly positions of planetoids
Chiron, Ceres, Junon, Pallas, Vesta, Sedna and also the Mean Dark Moon.
-
Planetary stations
with dates and longitudes of direct and retrograde stations.
-
Moon phases
with dates, times and lunar longitudes for the 4 phases.
These data are supplemented with the graphical representation of planetary motions on the zodiac.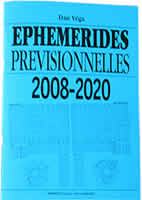 The positions are given in longitude on the tropical zodiac for 0h UT (Universal Time).
It's the perfect book for dating and determination transits multiple passes with their direct and retrograde phases.
A5 PDF document - 32 pages.